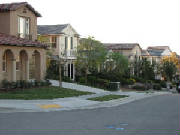 Edgemont in Rosedale, Azusa
WALDEN & ASSOCIATES
offers a wide range of engineering and surveying services relating to residential development.
Over the years we have successfully completed a variety of residential projects and have customized our services to match the needs of each individual client and site.
Our professional services are available to clients throughout the various phases of a project, from initial site planning, feasibility studies, and environmental impact analysis, through preparation of tentative and final tract maps, to complete site design and construction staking.
The primary objective of
WALDEN & ASSOCIATES
is to provide high quality, integrated, personal service to address the complete design aspects of each residential project.